Friday, January 28, 2011 at 9:00AM
I still remember the first registered Quarter Horse I ever owned. He was beautifully awe-striking, a flashy sorrel with three white legs and a splashy white blaze on his face. His mane and tail were coloured like smoking flames. He had a patch of white hair on his hip in the shape of a "7." He was tall, powerful, a quick learner, streamlined as a race horse and could outrun anything else on the farm.
He was also the most arrogant and opinionated gelding I'd ever met; he had all the pride and fire of a stallion, and all the finesse of a metrosexual. He'd been bought as a yearling by my mother.
When my pony was sold, I bought the horse from Mom, who had decided she wanted a slower horse. It was Spring of 1998. I was a 12 year old with the fastest, most arrogant horse around. His registered name was Three Bars The Fifth. I soon shortened it to Three Bars Five.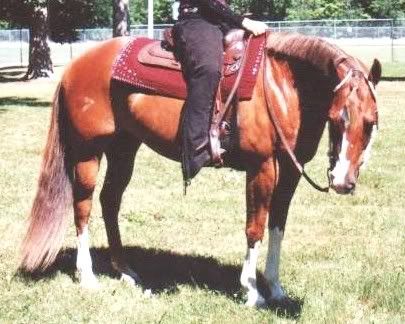 The infamous Three Bars Five himself. True to his breed, he was a Quarter Horse who could do it all. He has won conformation classes, English riding classes, Western riding classes, jumping and barrel racing. He is 18 years old now and he's still just as rambunctious as he was as a 5 year old, albeit considerably more trained and trustworthy.
His talent comes straight from his heritage. The modern American Quarter Horse has a long history as a racehorse and working ranch horse on the North American continent, dating all the way back to the 1600s. Their namesake and claim-to-fame is for their incredible sprinting speeds over the Quarter Mile races. They, like their "cousins" the American Paint Horse and Appaloosa, find their roots in a mixture of several prominent Spanish and European horse breeds that were brought to America in some of the very first explorations around 1520 A.D. The American Quarter Horse Association (AQHA) was founded in 1940 and is the largest single-breed registry in the world with over 4 million horses.
The American Paint Horse and Appaloosa are a result of the same type of heritage as the Quarter horse, though slightly more colourful. They are well known as the "horses that the Indians [Native Americans] rode." The unique coat colour patterns come from the Spanish horse influence rather than the Thoroughbred or Arabian influence that eventually intermingled in the bloodlines.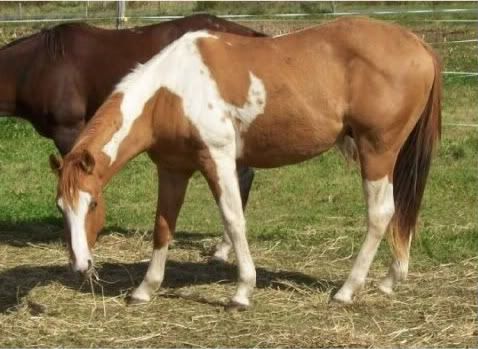 The author's first American Paint Horse, Jags Fleeting Rocket, aka "Fleet". Fleet sports not only a flashy Tobiano pattern, but also the unique red-dun base coat colour.
The American Paint Horse Association (APHA) was founded in 1962 and now boasts having the second-largest breed registry in the U.S.A at almost 1 million horses. They're known for being the favourite mount of the Comanche Natives in the 1800s.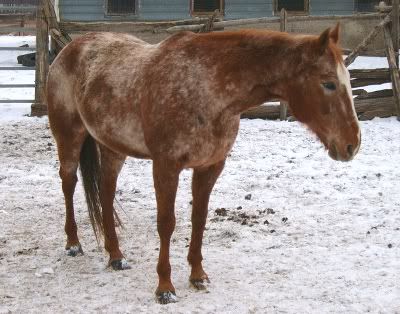 The Appaloosa mare "Strawberry Doll". She shows off a beautiful body type and is a very good example of the coat pattern known as "varnish roan". A short but mighty gal with championships in Barrel Racing, Polebending, and Jumper 3'6".
The Appaloosa Horse Club beats out the AQHA as being the oldest of the three western stock horse associations, as it was chartered in 1938. Their registry is the third largest in the U.S.A. with over 630,000 horses. The Appaloosas' heritage is strongly associated with the Nez Perce Native Americans, and to this day there are several Breed show classes that honor the past, such as the Nez Perce Stake Race and the Camas Prairie Stump Race. (Polebending and Barrel Racing, respectively.)
All three breeds have some very close characteristics in their physical appearance, abilities and in competitions, and nowadays have a very strong Thoroughbred influence. The Quarter Horse also exerts its own influence on the coloured breeds, as any foal with at least one registered coloured parent can be registered if the other parent is a registered AQHA.
Known more commonly as "Stock Horse Breeds", these three titans of the horse world dominate certain "western" equine competitions, such as Western Pleasure, Barrel racing, Polebending, Roping, Reining, Cutting, and Ranch Sorting. With the help of the Thoroughbred influence, they are also becoming more specialized for traditional English riding events and have created their own niche in the Hunter Under Saddle and Equitation world within each Breed.
In the modern days of recreational riding and competition for leisure, these three Breeds have excelled due to their versatility and more steady personality. They are the favourite mounts for "first-time" owners and for youth riders.
Nowadays, my farm is now home to several more registered Quarter Horses, two Paints, and one spotless Appaloosa. They are all part of the family and I wouldn't trade them for anything!
tagged
APHA,
AQHA,
ApHC,
horses,
western riding
in
Blog,
Western Horses