Monday, March 28, 2011 at 6:33PM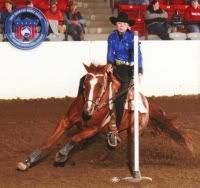 Polebending is one of those obscure western speed events that stands in the shadow of the popular Barrel Racing. Consisting of a pattern of six upright poles, six feet tall and spaced in a straight line 21 feet apart, "Poles" is one of the most challenging western speed events in the world. The pattern requires that the horse and rider perform two straight runs and two sets of weaving. 21 feet sounds like plenty of room, but when you're sitting on the back of a fire-breathing polebending horse at full gallop, that distance shortens pretty quickly.
The challenge of polebending is solely in the weaving. Each rider has their own unique style of achieving the blindingly fast flying lead-changes required for this sport.
Two of Ontario's best polebenders took the time to share why they love this sport. Not only is the author related to one and good friends with the other, but they have grown up together in the western horse industry since their 13 & Under days.
Meet The Experts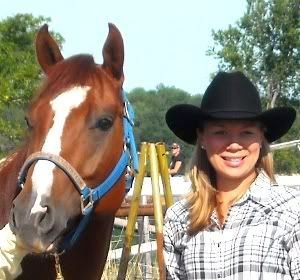 Betsy MacFarlane of Deseronto, Ontario, is the 22 year old owner, trainer and sole rider of the famous Cody's Curiosity (aka: Sugar Bear). She has raised this nine year old AQHA gelding from birth to become a three-time Congress Polebending Champion, AQHA Top Ten Youth Polebender, Eastern Canadian Polebending Champion, and has a list of wins and awards so long that it won't fit here. Betsy is a polebender by day, and a life-saving, sushi-loving paramedic by night.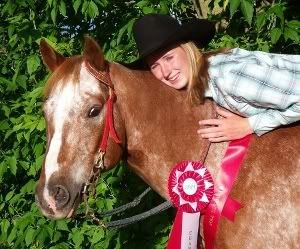 Leslie Richards, an 18 year old of Demorestville, Ontario, has an identical history of raising her 10 year old POA gelding, Zip Of Brandy (aka: Zip). Jockeying Zip, they have multiple Congress Top Tens, placed seventh overall in the 2009 Congress Polebending Sweepstakes, have several NBHA 1D Championships, and have a first-class resume of western speed event wins that is hard to match. Leslie will be heading off to college soon. When she is not riding one of her three horses, she is actively involved in other sports such as Figure Skating and Basketball.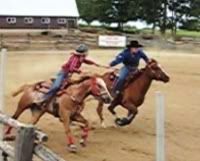 They work well as a team! (Relay)Betsy and Leslie have a lot in common: a history as winning competitors in Showmanship, Western Pleasure, Horsemanship and Hunter Under Saddle; growing up with knowledgeable equestrian mothers; each has a fabulous older sister who excels in the slower disciplines; and each have been their own trainers of their own ponies and horses from an extremely young age.
Their shared passion for polebending has led to a friendly competitive spirit. The desire to be faster has taken them down similar paths of training and thinking, and has allowed them to experiment with different styles and find the methods that add to the speed.
Why Polebending?
"It's fun and it's FAST!" Leslie says with a big grin. "It's such a challenge for a rider, especially when you've trained your horse all by yourself."
"If you like barrels, you're probably gonna like poles," Betsy states. "We're all adrenaline-junkies, and polebending is a unique challenge, so different from barrels. You're not fast for three turns, you're fast for three turns plus ten weaves."
Both ladies agree there is nothing more satisfying than completing a successful polebending run on a horse you've trained from scratch. The sense of accomplishment, the increased partnership between horse and rider, and the higher level of training and riding skill required, make the sport well worth doing.
The money isn't too bad, either. At bigger shows at the Provincial and National Level, such as the National Barrel Racing Association (NBHA), National Polebending Association (NPBA), Ontario Barrel Racing Association (OBRA), and the All-American Quarter Horse Congress, a winning run can earn hundreds, up to thousands of dollars.
Leslie and Zip raked in a glistening sum of almost $1600 USD at the 2009 Congress for only four Polebending runs, including the Congress Polebending Sweepstakes.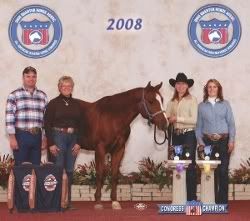 Betsy and Sugar Bear raked in a whopping $1608 USD at the 2008 Congress for her Polebending runs, including the Sweepstakes. Sugar Bear has lifetime polebending earnings of $3650.00 CAN for 2007-2008.
The total purse of the Congress Sweepstakes is usually around $30,000-$40,000 USD, divided between two Go's, a Final, and an Average.
However, while the money is good motivation, the honour, glory, and success of training are the real driving forces.
"It takes a lot of skill and talent from both horse and rider," Leslie states. "My goal as a horse person is to continually become more knowledgeable, skilled, and successful with every horse I work with."
"If you can run poles this good," Betsy says, "then you know you're synched with your horse. That's as good as it gets. There's no other feeling like flying through a smooth pattern."
Weaving and Juggling
It can be hard for dedicated athletes to manage their time between their sport, school, work, and a social life. Athletes often become exhausted and burn out if they can't learn to juggle these things well. Leslie shares some of her techniques to stay happy and healthy.
"I stay on top of my school work as much as possible," she says. "I use my time as wisely as possible while I'm at school." Nothing cuts into riding time like homework; what better motivation to get it done than riding? After the installation of an outdoor light over her riding pen, Leslie found herself more relaxed to get homework completed and horses ridden. Being able to ride at night gave her more time to ride, so she didn't have to struggle to fit everything in during daylight hours anymore.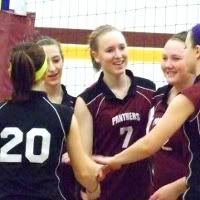 Leslie is actively involved in other team sports, such as Volleyball.Leslie is more athletic than most, outside of the horse world. She plays basketball, volleyball and soccer at school and hopes to join the tennis team this year, too. Outside of school, she plays in a house league soccer, Monday night volleyball league, and figure skates.
"Everyday activities around the barn keep you somewhat fit, but I like to try to fit in at least one five-kilometer run a week during the summer. As for weight training, I like to think that hours and hours of doing hay and carrying water buckets accounts for that."
One thing Leslie calls herself a "guru" at doing is video-critiquing. Throughout the summer, she has her runs at competitions and home digitally videoed. Videos are very good training aides and provide a source of learning and understanding. Many riders video their rides to pinpoint problems and create solutions, and Leslie is no exception.
"… It allows you to see what you actually did in that split-second," Leslie says. "I don't do yoga, but if I've been having trouble with parts of my runs I do a lot of visualization. The videos help you remember the setting, your body position, and everything." Leslie first began using the visualization technique in figure skating. This technique is common throughout many non-horsey sports and to situations such as phobia-solving, speech or presentation preparation, and creative activities.
Leslie doesn't use scented candles or a trip to the spa to relax. She uses time spent with her friends to forget about the competitions. Having a good time with her friends takes her mind off the stress that comes with competing, and allows her to achieve a positive and better frame of mind.
Between getting her homework done, visiting friends, and her participation in other sports, Leslie manages to juggle her daunting schedule and has made it look easy to the average outsider. She recommends having an every-day plan that includes how much time you have, what needs to get done, and what sort of workout each horse needs. An organized schedule keeps the stress to a minimum and smoothes the path to achieving big goals.
"If you have a passion for something you can ALWAYS make it work."
A Polebender's Inspiration
Every great polebending sage had their inspiration come from somewhere. When they were asked "What inspires you as a polebender?" they gave some pretty deep and surprising answers.
Leslie's pedestalled rider is renowned trainer and barrel racer, Sherry Cervi. Cervi's good riding skills, horsemanship skills and professionalism make her one of the best in the industry.
"She is very gracious when she speaks to the public, and handles herself under pressure amazingly!" Leslie gushes. "I do my best to mimic her!"
Betsy's icon of choice is legendary NFR 11-time Barrel Racing Champion, Charmayne James. James hails from Texas and is as well-known as Martha Josey, Brittney Pozzi-Pharr, or Michael Jordan. She is a pioneer in the industry, a fabulous trainer with a very high code of ethics and moral standing, and open-minded enough to clone her multi-champion gelding, Scamper.
Betsy and Leslie don't just limit themselves to being inspired by their famous superstars, though.
"I've never had a coach, however, many of my fellow barrel racers in Ontario have had an influence on me in how they are supportive, helpful, always finding the positive in things, and always encouraging you to go and do your best," Leslie says.
Ontario Friends-- L to R: Jesslyn Millen, Leslie Richards, Maddy Wright, and the author.
"Shelley Stephenson was my hero growing up," Betsy says, referring to lifelong friend of the family and owner of Sugar Bear's sire, Triple Your Treasure. "She always had amazing horses, always an awesome rider, and I wanted to be just like her when I was a kid."
"Every person who has ever beat me is an inspiration to me," says Leslie. "Not because they are a better rider, but just because they beat me. I am a very competitive person, so every time someone beats me, it just inspires me to be better next time! But in saying that, I also love to help other people and support them. I get a lot of satisfaction out of helping people and then seeing them become successful!"
After a few minutes of careful thinking, the girls summed up their entire motivations:
Leslie says: "Knowing that I trained Zip all by myself, every time I come out of the ring or have a great finish, I know that it was all my hard work every day that led to that result. It is the most rewarding feeling!"
Betsy states: "My horse inspires me to be better. I always want to do the right thing by him, I always want to be on top of my game for him. I always want to be the best for him, so that he can progress."
Amen, sister!
"You don't win because of luck at this level. You make your own luck."
Charmayne James